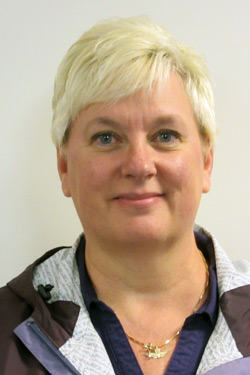 Introducing Rhonda Cash, ICC's new Academic Affairs and Foundation Coordinator as of Monday, Oct. 3, 2016.
Rhonda obtained a Banking and Financial Occupation degree from Hibbing AVTI and a Paralegal/Legal Assistant degree from Itasca Community College.
Most recently, she served in a temporary position with the DNR in Grand Rapids in the Fleet Operations Office. Prior to that, she worked as an Administrative Assistant in the Psychology Department at the University of Alaska and as an Administrative Assistant to the Principal at Mannheim Elementary School in Mannheim, Germany. She also has experience as a Parent Community Network Coordinator at Hale Kula Elementary School in Wahiawa, Hawaii, and as a Paralegal at Michalk, Beatty and Alcozer, LLC and at Smith and Carlson, Ltd. Both of these law firms are located in Kileen, TX.
In her spare time, Rhonda enjoys all MN sports (Vikings, Twins, Wild, etc.), reading, and her two dogs. She is active in the Yellow Ribbon Charity Support organization for active duty and veteran military members.
The next time you see her on campus, please be sure to stop and introduce yourself and welcome her to the ICC family.